2019 Birth Announcement
Our newest addition to the LCF colony joined experienced parents Leena and Merced on April 1. This is the pair's fifth infant since Leena's arrival at LCF in 2014 on a breeding recommendation from the Association of Zoos and Aquariums (AZA) Species Survival Plan (SSP). At six weeks old, he or she is transitioning to riding on mom's back and is starting to explore its surroundings, including older brother Julio. Determining the sex of an infant lemur takes a little bit of time, and we look forward to updating you when we know if our new addition is a boy or a girl—and can then have a name.
Mongoose lemurs are listed as Critically Endangered on the IUCN's Red List with an extremely high risk of extinction in the wild in the immediate future. In addition to their important role in conservation, education, and research, Leena, Merced, and all the lemurs at LCF involved in our managed breeding program serve as a genetic safety net against possible extinction in the wild.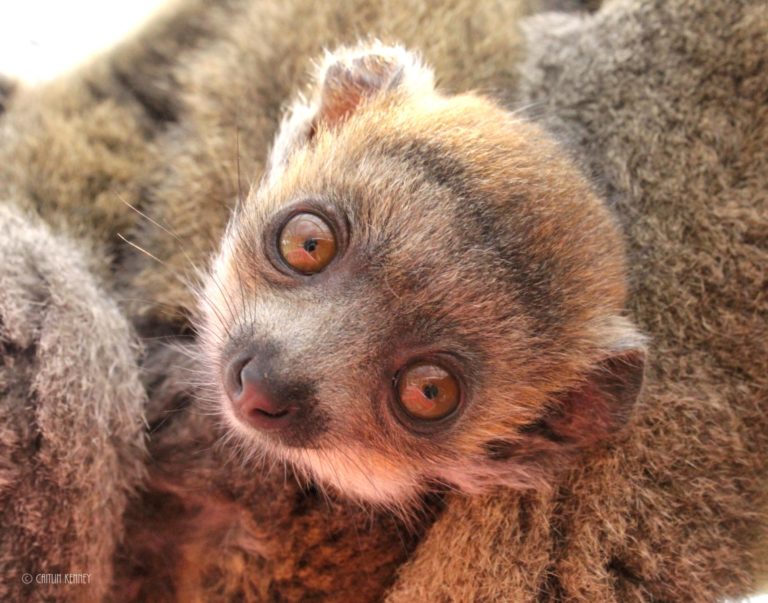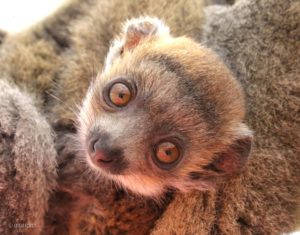 1st World Lemur Festival held in Sarasota
On October 13, 2018, we held our 1st World Lemur Festival in celebration with international events held around the world in honor of World Lemur Day. Our partner, Ringling College of Art and Design, hosted the free, family-friendly festival at the Alfred R. Goldstein Library. Guests enjoyed many conservation education activities and a talk by Drs. Alison Grand and Erik Patel, The Art & Science of Saving Lemurs. A highlight was a juried art exhibition to illustrate the challenges faced by lemurs. Over 20 submissions were received by faculty and students.
2018 Giving Challenge a wonderful successful
We are incredibly grateful to you, our supporters and friends, for making the 2018 Giving Challenge an incredible success. Thank you for your gifts and outreach—sharing our emails and Facebook, Twitter and Instagram posts to build awareness about and increase compassion and support for lemurs.
With nearly $12,400 raised through individual gifts, you more than doubled 2016 Giving Challenge donations. With the outstanding match of $11,431 from The Patterson Foundation, for which we are so thankful, and $1,100 in prizes earned from the Community Foundation of Sarasota County (CFSC) and partner foundations, we set a record of almost $25,000. Our sincere thanks to the CFSC for presenting this wonderful and exciting giving opportunity. We look forward to keeping you updated about the impact of your support to help save lemurs from extinction.
We look forward to participating in the next Giving Challenge, taking place April 28 and 29, 2020.
We invite you to learn more about our vital work in Florida and Madagascar to protect and save lemurs and their habitat.
Please help build awareness about these endangered primates by sharing our news. Together, we can work to eliminate the challenges faced by lemurs.