2019 Lemur Gala: Red Ruffs & Roses, February 7
You're invited to our 2019 Lemur Gala, Red Ruffs & Roses, a captivating and inspiring evening to celebrate lemurs and join together to help save them from extinction in the wild. World-renowned conservationist Dr. Thomas Lovejoy is our distinguished speaker.
Committee
Co-Chairs: Scott D. Riviere, LCF Chair, and Penelope Bodry-Sanders, LCF Vice-Chair and Founder | Ann Fries, Diane Ledder, Juliet McGhie, Patrice Pantello, Carole Wennick, Charlene Wolff
Sponsorship Opportunities and Tickets
Join Red Ruffed Presenting Sponsor Diane Ledder in partnering with LCF to conserve and preserve the primates of Madagascar. The Red Ruffs & Lemurs Sponsorship Packet includes a form to reserve your sponsorship or contact Tora Buttaro at tbuttaro@lemurreserve.org or 941 812-3233.
Reserve your ticket/s and sponsorship online by clicking here.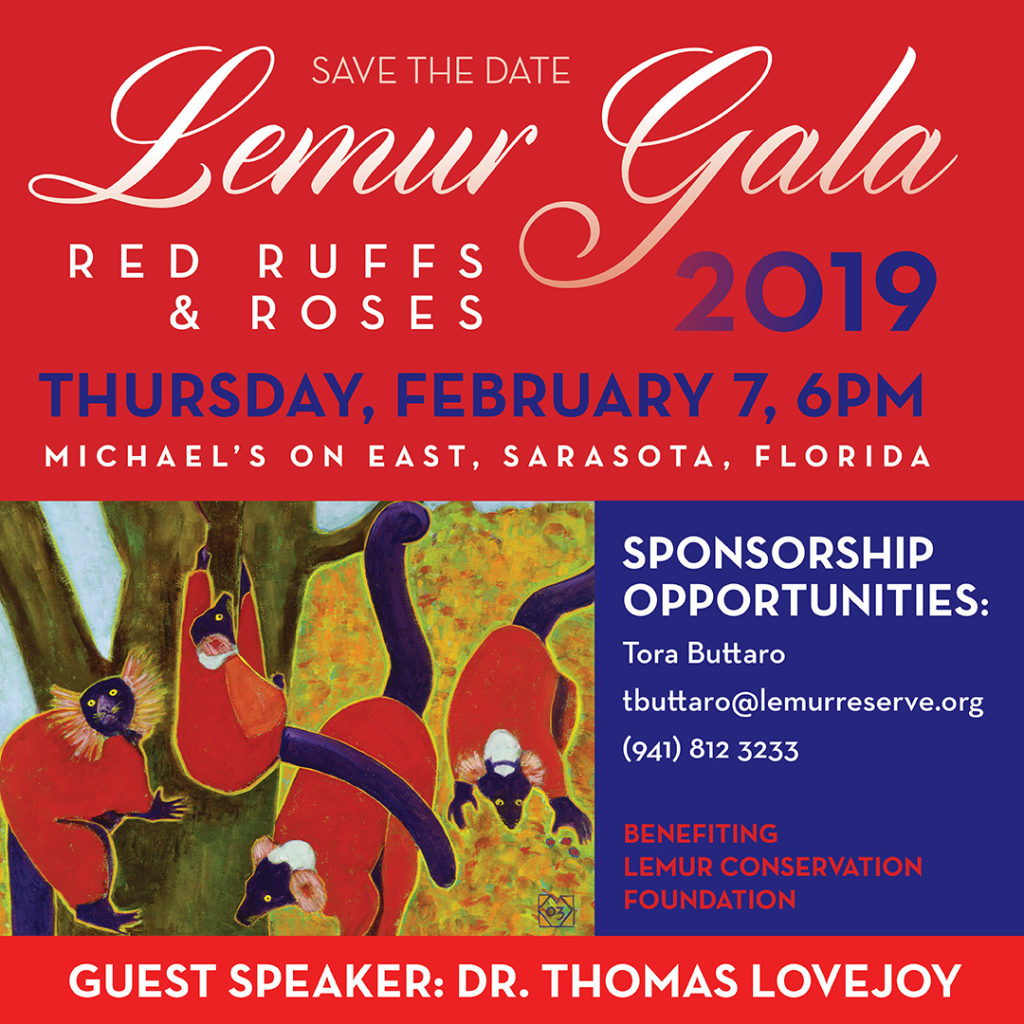 Silky Sifaka Troop
$10,000 Sponsorship
VIP table for 10

Recognition on VIP sign at table

Full page ad in event program

Recognition in screen presentation

Recognition in press materials

Featured recognition on LCF website
Mongoose Lemur Conspiracy
$5,000 Sponsorship
Seating for 8

Half page ad in event program

Recognition in screen presentation

Recognition in press materials
Indri Family
$2,500 Sponsorship
Seating for 6

Quarter page ad in event program

Recognition in screen presentation
Ring-tailed Lemur Group
$1,500 Sponsorship
Seating for 4

Recognition in event program

Recognition in screen presentation
2018 Arrivals
We are thrilled to share that two lemur infants have been born at the reserve in 2018. LCF plays a critical role in maintaining a genetic safety net for lemurs that are otherwise threatened with extinction in the wild.
In April, we welcomed an endangered collared lemur (top photo)—the first born at LCF in six years—born to Jolene, a first-time mother, and Antoine, an experienced father. As Jolene's baby started to spend more time exploring and playing, the staff were able to determine that it's a girl! After considering many possibilities to continue our French theme for collared lemur names, the staff have chosen the name Isabelle.
In June, our latest infant (bottom photo) joined mongoose parents Leena and Merced. This is the fourth infant born to the pair since Leena's arrival at LCF in 2014. In October, we determined that the infant is a boy. 

After going through many possibilities to continue our Spanish theme for mongoose lemur names, the staff has named him Julio, which means 'soft-haired.'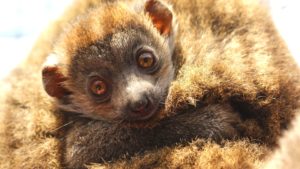 1st World Lemur Festival held in Sarasota
On October 13, 2018, we held our 1st World Lemur Festival in celebration with international events held around the world in honor of World Lemur Day. Our partner, Ringling College of Art and Design, hosted the free, family-friendly festival at the Alfred R. Goldstein Library. Guests enjoyed many conservation education activities and a talk by Drs. Alison Grand and Erik Patel, The Art & Science of Saving Lemurs. A highlight was a juried art exhibition to illustrate the challenges faced by lemurs. Over 20 submissions were received by faculty and students.
Laugh for Lemurs
Our 2nd Annual Laugh for Lemurs event at McCurdy's Comedy Theatre on September 13 was a wonderful success. With thanks to nearly 80 guests, we raised over $1,500 from the proceeds in support of our mission to save lemurs from extinction. Thank you!
The evening began with a private reception for our guests with light refreshments. LCF Executive Director provided a brief update about our work with photos from our reserve and Madagascar, followed by a viewing of The EnviroKidz are Saving the Planet, the video filmed onsite in August 2018 by our generous sponsor and conservation partner Nature's Path.
Everyone enjoyed an informative and fun-filled evening with thanks to McCurdy's Comedy Theatre and the talented and versatile comedian Dennis Blair.
2018 Giving Challenge a wonderful successful
We are incredibly grateful to you, our supporters and friends, for making the 2018 Giving Challenge an incredible success. Thank you for your gifts and outreach—sharing our emails and Facebook, Twitter and Instagram posts to build awareness about and increase compassion and support for lemurs. With nearly $12,400 raised through individual gifts, you more than doubled 2016 Giving Challenge donations. With the outstanding match of $11,431 from The Patterson Foundation, for which we are so thankful, and $1,100 in prizes earned from the Community Foundation of Sarasota County (CFSC) and partner foundations, we set a record of almost $25,000. Our sincere thanks to the CFSC for presenting this wonderful and exciting giving opportunity. We look forward to keeping you updated about the impact of your support to help save lemurs from extinction.
With over 50 lemurs living at the Lemur Conservation Foundation's reserve in Myakka City, Florida, there's always news about one or more leaping, climbing, calling or roughhousing in their protected forests and shelters. We invite you to learn more about our vital work in Florida and Madagascar to save lemurs from extinction.
Please help build awareness about these endangered primates by sharing our news. Together, we can work to eliminate the challenges faced by lemurs.