LCF works with teachers, educators and students to help promote a better understanding of Madagascar's primates. Learning about lemurs and acquiring skills to address related conservation issues helps foster appreciation for the natural world. Our education projects span kindergarten through college and include:
The Ako Project, a conservation education program for grades K-5
The Teachers Institutes for Conservation Biology run for local high school teachers
Internships at the Myakka City Lemur Reserve for recent college graduates
Participation in EdExploreSRQ, a searchable platform for teachers in Sarasota County
Environment clubs and educational programs for students in Madagascar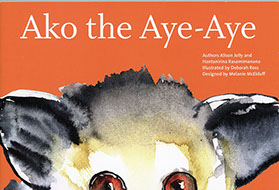 LCF has partnered with scientists and conservationists on the Ako Project, an international environmental education program funded by Nature's Path EnviroKidz, the Jolly family, UNICEF, the Liz Claiborne and Art Ortenberg Foundation, the McCrae Conservation and Education Fund, and LCF.
In 2005, LCF published a bilingual children's book in English and Malagasy titled Ny Aiay Ako (Ako the Aye-Aye), written by the late Dr. Alison Jolly, noted primatologist and lemur biologist, and illustrated by Deborah Ross.  That picture book has since developed into a six-book series with accompanying posters and teacher materials that explore different Madagascar ecosystems and species of lemurs.