The Lemur Conservation Foundation works with community educators in zoos, schools, libraries, and elsewhere to help promote a better understanding of Madagascar's primates. Students learn about lemurs and acquire age-appropriate skills to address current conservation issues.
We work with educators in the United States, Madagascar, and around the world to foster appreciation for the natural world.
Lemurs are Madagascar's most famous and recognized ambassadors, but they are the most endangered group of mammals on the planet. With 98% of all lemur species considered threatened with extinction, Madagascar embodies all of the drivers of the ongoing biodiversity crisis: habitat destruction, overexploitation, pollution, invasive and introduced species, and climate change.
Lemurs act as an umbrella species. By protecting lemurs, we protect large habitats that support countless plants and animals that are found only on Madagascar.
Lemurs are a window into our evolutionary past. They provide scientists with compelling clues about our earliest primate ancestors, the evolution of human intelligence, and how we came to differ from other species. To better understand ourselves, we must first have a better understanding of lemurs.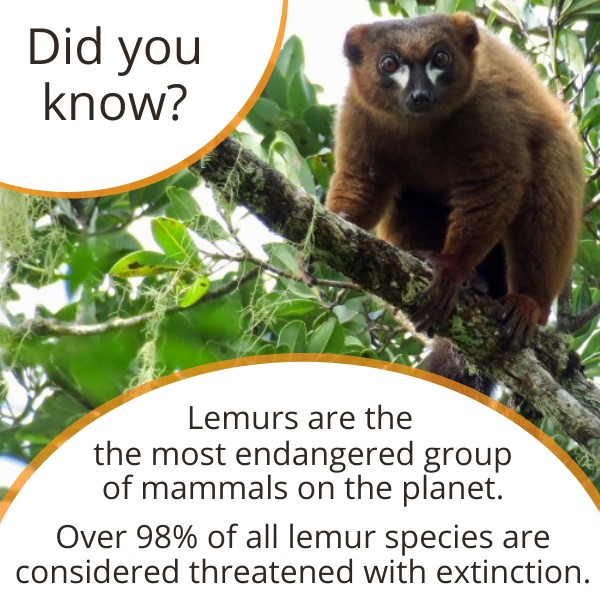 Lemurs are charismatic, charming, wonderful creatures. To spend any amount of time with them is to love them.
History of the Ako Project
LCF has partnered with scientists and conservationists on the Ako Project, an international environmental education program funded by Nature's Path EnviroKidz, the Jolly family, UNICEF, the Liz Claiborne and Art Ortenberg Foundation, the McCrae Conservation and Education Fund, and LCF.
In 2005, LCF published its first bilingual children's book in English and Malagasy titled Ny Aiay Ako (Ako the Aye-Aye), written by the late Dr. Alison Jolly, noted primatologist and lemur biologist, and illustrated by Deborah Ross. That picture book has since expanded into a six-book series with accompanying posters and teacher materials that explore different Madagascar ecosystems and species of lemurs.
Sadly, Dr. Jolly passed away in 2014, but her legacy lives on as the Ako Project continues to grow and gain popularity with educators and conservation enthusiasts around the world.
Our Partners in Conservation Education