In 1997, the foundation bought 40 acres in rural Manatee County, Florida. The reserve, now home to over 50 lemurs, has since expanded to 130 acres and encompasses diverse vegetation zones that range from freshwater marsh to scrub to oak-pine mixed forest.
As we celebrated our 20th anniversary in 2016, we reviewed our historic growth and with a keen eye anticipate needs and aspirations for the next 20 years. Today, we are proud that LCF is recognized as a premier Association of Zoos and Aquariums (AZA) facility and regarded as a preeminent site for educators and scientific researchers internationally.
But there is no time for a victory lap when lemurs are in such trouble today, making lemur conservation, research, education, and breeding programs more important than ever. LCF needs to further physical expansion and programmatic exploration to help lemurs survive.
In 2016, we launched the Leap for Lemurs capital campaign, a $2.2 million initiative that will:
Increase much-needed forest habitats and shelter for LCF's growing population of endangered lemurs
Provide a veterinary clinic and indoor/outdoor quarantine shelter
Build an on-site maintenance shop
Underwrite operational costs
This expansion will allow us to continue our successful conservation breeding program and foster more scientific research on undergraduate, graduate and postgraduate levels.
Our initiatives will also inspire stewardship of the earth's environment and move students and visitors of all ages to develop a greater understand and appreciation of lemur natural history.
As of January 2018, nearly 75% of the campaign has been funded with the spectacular generosity of our Board and other leading donors, as well as the tremendous support for our Annual Fund. We invite you to partner with us in our expansion by helping to achieve our $2.2 million goal by December 2018.
To learn more about the Leap for Lemurs capital campaign and giving options, please contact Tora Buttaro, Director of Development, at tbuttaro@lemurreserve.org or (941) 322-8494.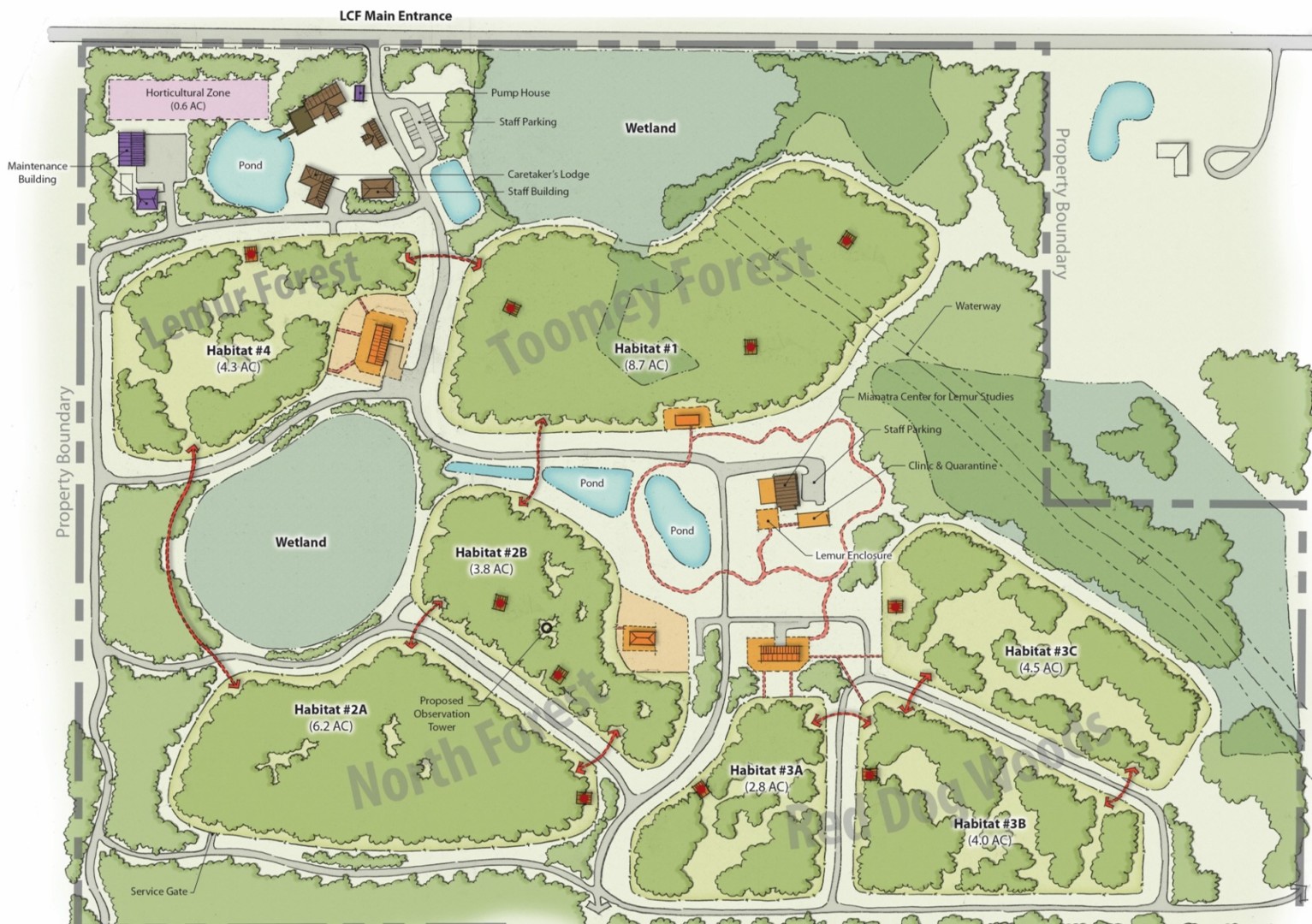 Forests
Currently, two forests, each about 10 acres and surrounded by a 13-foot fence, allow many of the resident ring-tailed, red-ruffed, mongoose, brown, collared, and Sanford's lemurs to range freely. Plantings of mango, passion fruit, guava, grapes, banana, persimmon, and bamboo supplement indigenous vegetation. This habitat invites authentic behaviors, improving breeding success and enabling scientific research and field training.
With the on-site lemur population growing, LCF is planning a third forest, a palmetto prairie which LCF has seeded with oaks and pines.
Within the main forest, the Reed and Barbara Toomey Lemur Pavilion provides space for food preparation and housing for lemurs in times of physical or environmental stress, such as hurricanes. It has eight climate-controlled indoor and outdoor enclosures. Serving a similar function in the second forest is the Marilyn K. North Lemur Lodge, which includes a dedicated veterinary room.
Outside the forests, the Michael & Jean Martin Quarantine Shelter allows LCF to isolate newcomers and breeding transfers.
Wetlands
Although secondary to lemur conservation, our environmental stewardship extends to local habitats and wildlife. LCF wetlands contribute directly to the head waters of the Myakka River, and LCF has worked closely with the Army Corps of Engineers and the South West Florida Water Management District to ensure that construction on the reserve does not harm the extensive wetland system.  Roaming the property is an incredible variety of insects, reptiles, amphibians, birds, and mammals, including river otters, indigo snakes, gopher tortoises, and great horned owls.
Buildings
The heart of human activity at the Myakka reserve is the Mianatra Center for Lemur Studies. It combines office and meeting space with the Anne & Walter Bladstrom Library. LCF's eclectic holdings, from scientific journals to art, provide a holistic vision of conservation.
Staff caretakers, interns, and visiting students and scientists can stay in one of three residences on or near the reserve: Fisher Caretaker's Cottage, Tranosoa Myakka (Myakka Welcome House), and the Researchers' House.
Nuts and Bolts by Mark Fazzone, LCF Reserve Manager
February 2018 – Since arriving on the reserve a few months ago, I've had so many fun, insightful and wonderful experiences. I asked if I could begin sharing my adventures with you. 
As LCF Reserve Manager, I'm the person to call when something breaks or isn't working correctly. That means I'm pretty much nearly everywhere everyday and having the time of my life. Learning the ins and outs at the reserve is no small task. There's so much that needs to be done regularly to take care of our special charges.
I had been on the reserve only a week when Pete, our former maintenance manager, and I took on the task of swapping the backhoe scoop on the tractor with the bush hog mower deck to clear some brush around the main building in preparation for the upcoming open house event.
With some banging, pushing and just good ole fashion luck we were able to safely disconnect the scoop and positioned the tractor to connect the bush hog mower deck.
The mower had been resting in an area some distance away from the shop and quite a bit of tall grass surrounded it. We were able to connect the three-point hitch and began to slowly pull the deck forward to line up the PTO shaft that drives the blade.
It was at that moment I felt, what I can only describe as two small hands, tapping gently on my lower calf. Looking down between my leg and the mower deck I saw two small grey and white furred arms sticking out from under the mower tapping my leg to get my attention.
Startled, I asked Pete to raise the deck with the tractor. As the deck came up slowly, a fair-sized raccoon pushed out from under the mower, past my leg, and continued into the surrounding forest. Only when the raccoon reached the edge of the undergrowth did she turn to look back at us as if in her peaceful brief gaze to say thank you for freeing her from confinement. In a blink of an eye she silently vanished but did manage to leave an amused smile on my face and another fun story to add to my list.
Thank you for reading about my little adventure on the reserve. One of many I know I'll experience in the years to come.