LCF is pleased to welcome Marissa Bledsoe, Ava Shepard-Cano, and Kira Weston as our summer 2023 interns. These new additions bring great experience to LCF's animal husbandry program.
Our thanks to Marissa, Ava, and Kira for following our continuing COVID-19 protocols, which have included a 'mini quarantine' period that prevented them from shadowing husbandry staff for one week after their arrival at the reserve. Additionally, with their adherence to LCF PPE requirements, we provided them with presentations and activities that did not directly involve lemurs during the transition.
The presentation topics covered a general orientation, animal welfare, and enrichment. Projects included making enrichment for the lemurs and tidying up our browse/vegetable garden and compost area.
Marissa Bledsoe
Marissa is originally from Delaware, Ohio, and is a rising sophomore at West Liberty University. She is majoring in Zoo Science and Applied Conservation. She has a quite a lot of experience in the animal care industry. She completed the North American region internship at the Columbus Zoo and Aquarium. She also wrote an interaction thesis on Western Lowland gorilla troops at CZA. Finally, she completed over 100 hours in animal care labs on the West Liberty University campus. She is interested in this internship because she loves primates and hopes to further her career in working with them. She chose LCF because she loves the set-up and how much habitat the lemurs are offered. She also appreciates the connections with conservation work in Madagascar.
Ava Shepard-Cano
Ava is currently going to be a junior at Eckard College who is pursuing a Bachelor's degree in Animal Studies and two minors in Japanese and Biology. Her past experience has been at the Sunrise Children's Zoo and Cedar Bend Humane Society in Waterloo, Iowa. She could not be more thrilled to gain experience in animal husbandry with lemurs. Her goal is to become a zookeeper and also work in conservation with endangered animals. In her free time, you can find Ava drawing, writing, or playing tennis.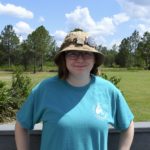 Kira Weston
Kira Weston is a recent graduate of SUNY Oswego. She graduated fall of 2023 with a major in Zoology and minors in Biocultural Anthropology and Photography. In the summer of 2022, Kira was fortunate to study abroad for two weeks in Tanzania. She visited many national parks and learned about local conservation efforts. She also assisted in educational presentations brought about by the Reptile Adventure Company. She also worked at PetSmart for three years. Kira has a long-term goal of caring for primates in zoos and is excited to gain valuable hands-on experience at LCF.