I have a name! Our final infant born in 2022 is a ring-tailed lemur born on July 4 to new parents Dalia and Goose. Staff were particularly excited at the arrival of this little one as this is the first ring-tailed lemur birth at LCF in five years!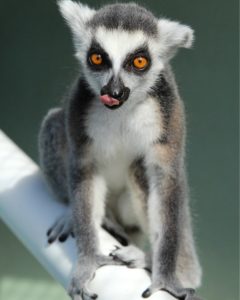 Our theme for ring-tailed lemur names is beer and cider. So without further ado, say hello to Finch! Named after the Finch Beer Company, and following her dad's bird-themed name, Goose, little miss Finch is already making her mark. With her gangly limbs and sassy attitude, this girl is stealing hearts around the reserve. Except, perhaps, the two mongoose lemurs this trio live with. Felix and Clarissa are both in their upper 20s and simply can't match Finch's energy level. This means little to Finch, who will frequently try to investigate the geriatric couple, including pulling on Clarissa's tail.
Ring-tailed lemurs are classified at 'Endangered' on the IUCN Red List with a very high chance of extinction in the wild in the near future. LCF works with multiple Species Survival Plans (SSPs) to manage our breeding programs and we are currently home to 51 lemurs, including 13 ring-tailed lemurs.