Illness, Recovery, and Companionship: Volana's Journey is a unique tale eight months in the making. Say hello to red ruffed lemur (Varecia rubra) Volana. Many of you may recognize him as he was born at LCF in 2008 and free ranged in our forest habitats for much of his life.
Illness
On November 23, 2020 Volana suffered a seizure event. Luckily he was not free ranging at the time, but rather in his shelter area eating breakfast. Staff rushed to get him the treatment he needed to stop the re-occurring seizures. Volana received dedicated treatment from LCF's team for several weeks as we worked to get him healthy again.
Following treatment to stop the seizures, LCF's veterinarian, Dr. David Holifield, began diagnostics to determine the cause of the seizures. This included a neurological consult and MRI with Dr. Christopher Levine of Levine Veterinary Neurology. Frustratingly, all results, including the MRI, came back normal.
As Volana's journey to recovery began, staff worked one on one with him to closely monitor for any signs of additional seizures. At the same time, we also monitored food and liquid intake, administered several medications throughout the day, and designed a specially furnished room to ensure a safe space if he did have another seizure. Not only did our team need to monitor how much Volana was eating but they also needed to keep track of WHAT he was eating as some of his new medications affected his sense of taste, resulting in his refusal of several of his typical preferred foods.
Recovery
During Volana's recovery, we were not only concerned about his physical health, but also his mental health. Many lemur species, including red ruffed lemurs, live in complex social groups and prolonged isolation can have negative psychological effects. Our team's rigorous dedication to Volana's care paid off as he began to improve. On December 8th, just two weeks after the seizure, the staff watched as Volana was successfully re-introduced to his brother Rivotra followed by his father Tsikey two days later.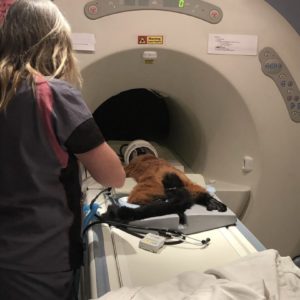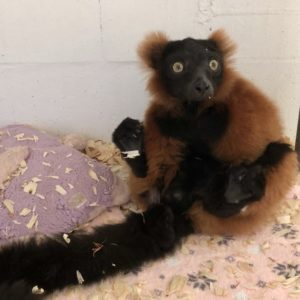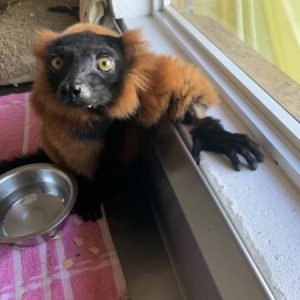 Volana's journey was progressing with the re-introductions to his family group. However, he was still shaky when walking and had a persistent head tilt- both lasting side effects of his seizure event the previous month. Because of this, introductions were slow and limited to a space safe for Volana. As time passed and he continued to improve, Dr. Holifield gave the clearance for Volana to start limited climbing, have outdoor access during the day, then 24/7. Once we reached this point, Volana was fully re-introduced to his family group- a group that included not only his dad and brother, but female Ravina and youngster Frezy.
While Volana's mobility and balance were greatly improved, he was still not medically cleared to traverse the forest. With Volana's addition back into his family group, this unfortunately meant the rest of the group could no longer free range in our forest habitats without causing undue stress to Volana. Keeping the group's social and spacial needs in mind as well as Volana's medical restrictions, our team began to brainstorm a long-term solution.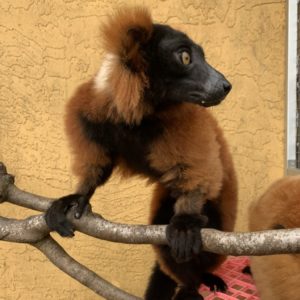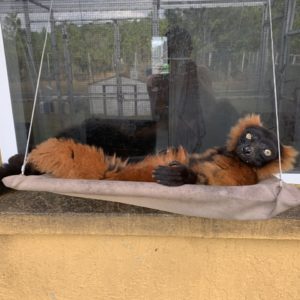 Companionship
While Volana was drastically improved from his original post-seizure state, the staff felt he would no longer be safe in a free range setting due to the physical demands of the forest.  Instead, Volana would enjoy an enclosure at our main building shelter where staff could easily monitor him. With this in mind, LCF reached out to the AZA Red Ruffed Lemur SSP (Species Survival Plan) to discuss options for a new partner for Volana. The SSP recommended LCF bring in a female red ruffed lemur named Demi from the Nashville Zoo to be paired with Volana.
On January 22, 2021 two LCF staff members drove up to the Nashville Zoo to pick up Demi and drive her back to LCF. Following her quarantine period, staff began supervised introductions between her and Volana. Volana was exceptionally excited to finally have a female all to himself- instead of sharing with three other males- and was initially a little too eager for Demi's liking, but she came around within a few days. Demi's arrival and Volana's successful transition away from his family group meant that Tsikey, Rivotra, Ravina, and Frezy could free-range once again- something they were all extremely eager to do.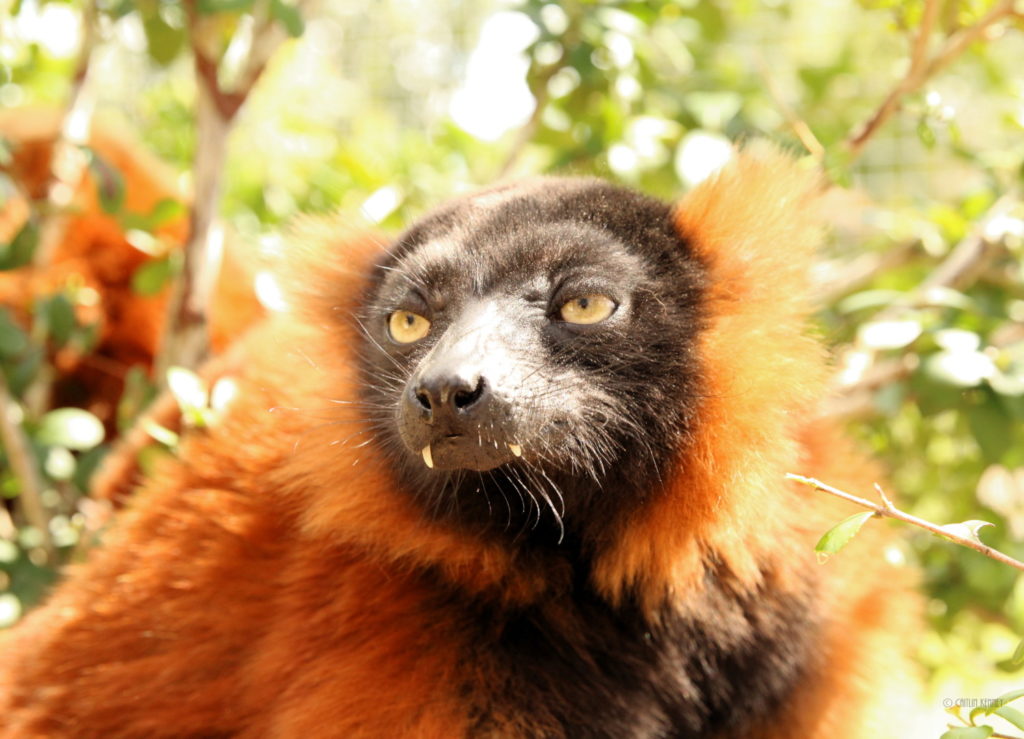 Demi and Volana have since bonded well and spend their days lounging around their enclosure together. The LCF team recently decided to give Demi a Malagasy nickname to match our name theme for red ruffed lemurs and decided on 'Nify', which means teeth- so named for her large canines!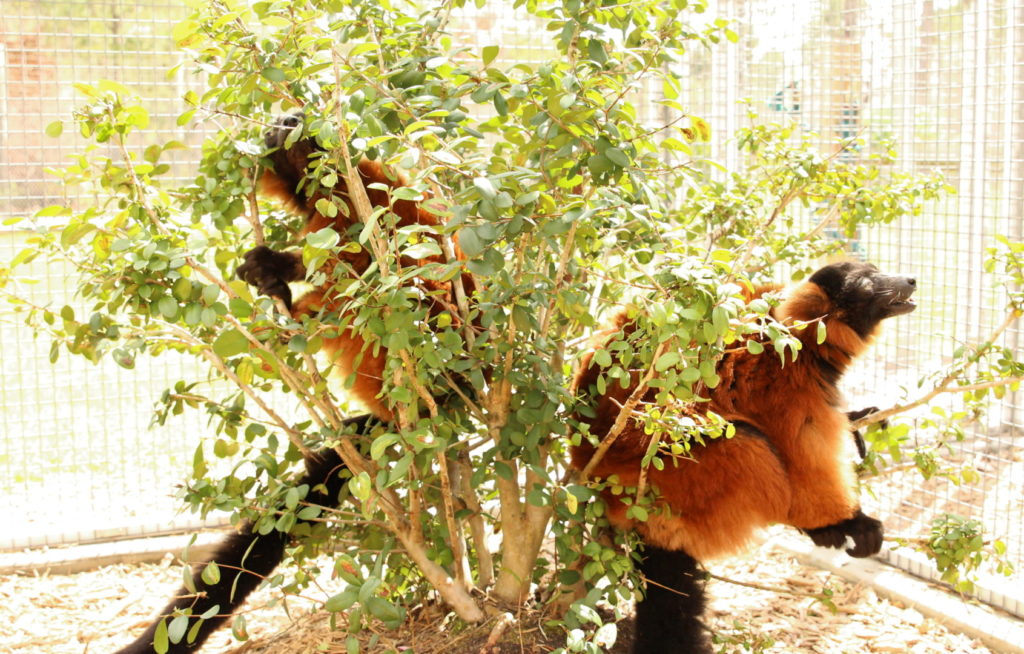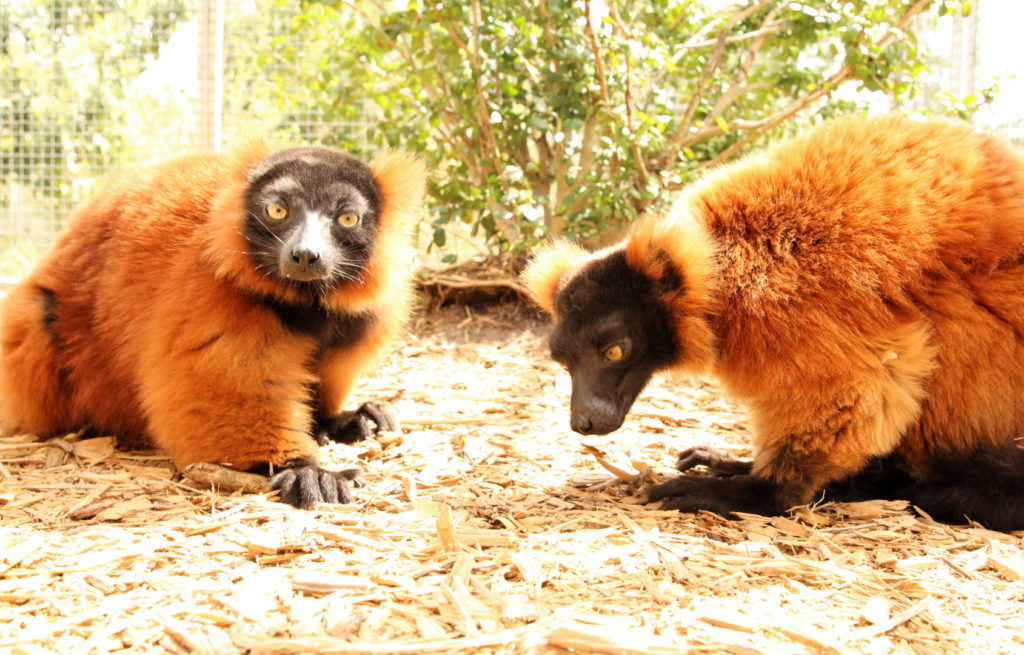 Support
Every lemur at LCF increases the genetic safety net against extinction, and provides renewed hope for the survival of lemurs for generations to come. In addition, with under 200 animals in the AZA Red Ruffed Lemur SSP, each individual, including Volana, is crucial to the survival of this critically endangered species. SSPs are used to help manage the population of select species in AZA facilities and to help with the conservation of those species in the wild.
While Volana has faced many obstacles within the last eight months, he continues to come out on top and we couldn't be more proud of him. A big thank you to everyone who helped Volana's journey- all of our staff and interns, LCF's Veterinarian Dr. David Holifield, Dr. Christopher Levine and the staff of Levine Veterinary Neurology, the AZA Red Ruffed Lemur SSP, and the Nashville Zoo.
In addition, we are so thankful to YOU! Your support and donations help us provide the best care for our lemur colony, including Volana's MRI as well as his ongoing anti-seizure medication. If you are interested in supporting Volana's care, or the care of one of our other 50+ lemurs, please consider donating today.