Volana is one of seven red ruffed lemurs at the Lemur Conservation Foundation reserve. Living in a bachelor group for many years, Volana and his brother Rivotra were recently re-introduced to their father Tsikey, his partner Ravina, and their son Afo. The new family of five are living in one of LCF's free-ranging forest habitats. Volana's favorite activities include sunning in the forest and vocalizing with his family.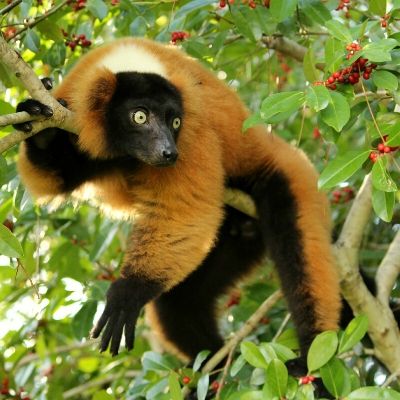 Born at the reserve on April 28, 2008, Volana has a birthday coming up. In fact, Rivotra does, too. They are two of male triplets born to LCF red ruffed lemur Hale, who was a twin herself. Mother and brother Masoandro ('Maso') are now deceased. LCF chose Malagasy celestial words to name the three in honor of their mother, named with her twin sister Bopp for the Hale-Bopp comet, and their father, Tsikey.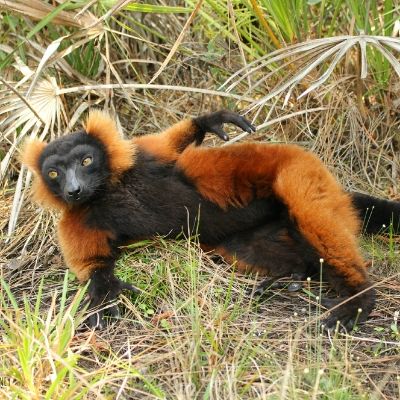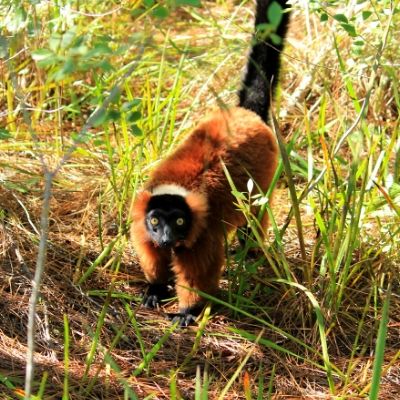 LCF's red ruffed lemurs typically have Malagasy-themed names. Here are the translations for this family tree:
Malagasy Name
Afo
Masoandro
Ravina
Rivotra
Tsikey
Volana
English Translation
Fire
Sun
Leaf
Wind
Smile
Moon
The red ruffed lemur's stunning color and features have been the inspiration for artwork in LCF's permanent collection. Volana's mother, Hale, was the subject of a painting by artist Judy North. Art is an important part of LCF's mission, as a means of instilling compassion for and wonder about lemurs.