The Lemur Conservation Foundation is pleased to welcome Erica Cheaney, Marisa Fajardo, Sydney Kolpien, and Jay Sisemore as our new summer interns. All of these new additions bring great experience to LCF's animal husbandry program. We are very appreciative that they have joined us during this challenging time and we've implemented ongoing precautions to keep them and our staff safe and healthy during the COVID-19 pandemic.
Our thanks to Erica, Marisa, Sydney and Jay for following our protocols, which have included a 'mini quarantine' period that prevented them from shadowing husbandry staff for at least a week after their arrival at the reserve. Additionally, with their adherence to LCF PPE requirements, we are providing them with presentations and activities that do not directly involve lemurs during the transition. Presentations included a general orientation, animal welfare, and overviews of LCF's Madagascar and education programs, while projects included making banana circles for compost, removing invasive vines, and updating the catalog of books in our library.
Read about their accomplishments and why they were attracted to LCF's internship opportunities.
Erica Cheaney
From Arnold, Missouri, Erica is an upcoming senior at Southeast Missouri State University where she is earning a B.S. in Biology and a minor in Chemistry. Before arriving at LCF, Erica interned at the St. Louis Zoo Herpetarium along with working at several farms. Erica has loved zoos and all kinds of animals since she was a child, and is now hoping to pursue a career in the zoological field.  
Marisa Fajardo
Marisa is from Austin, Texas. She is a graduate from the University of Texas with a degree in ecology, evolution, and behavior. Marisa has been a long term volunteer at the Austin Bat Refuge and has previously interned at the Austin Wildlife Rescue. Marisa is interested in primate behavior and sociality and hopes to become more experienced in this field through her time at LCF.
Sydney Kolpien
From Corning, New York, Sydney is a senior at Saint Bonaventure University where she is earning a degree in Environmental Studies with a Natural Science Concentration and a Biology minor. She is interested in pursuing a career in wildlife conservation and animal management, and excited for the opportunity to learn and grow here at LCF.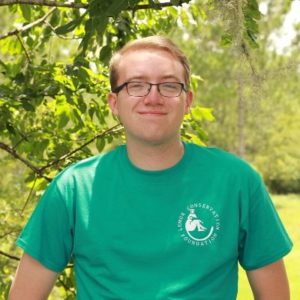 Jay Sisemore
Jay is from Vine Grove, Kentucky and is a rising junior at Delaware Valley University. He is a Zoo Science major and has interned at the Elmwood Park Zoo in Norristown, Pennsylvania, and works as a tutor. He hopes to pursue a zoo management position one day and knows that LCF will help him expand his knowledge and experience to get his first job in the zoo field.