LCF is pleased to welcome Anthony Woodruff, Kelly Keen, Olivia Ott, and Tyler Hill as our summer 2022 interns. These new additions bring great experience to LCF's animal husbandry program. We are very appreciative that they have joined us during this challenging time and we've implemented ongoing precautions to keep them and our staff safe and healthy during the COVID-19 pandemic.
Our thanks to Anthony, Kelly, Olivia, and Tyler for following our protocols, which have included a 'mini quarantine' period that prevented them from shadowing husbandry staff for one weeks after their arrival at the reserve. Additionally, with their adherence to LCF PPE requirements, we provided them with presentations and activities that did not directly involve lemurs during the transition. Presentations included a general orientation, animal welfare, and enrichment, while projects included tidying up our browse/vegetable garden, making enrichment for the lemurs, and a variety of small but helpful office tasks.
Read about their accomplishments and why they were attracted to LCF's internship opportunities.
Anthony Woodruff

Anthony is an Environmental Science major at the University of North Carolina – Wilmington. He is originally from Los Angeles, California, but has lived in North Carolina for most of his life. His volunteer work in Costa Rica with a sea turtle conservation organization inspired him to pursue animal husbandry as a possible career path. He is very excited to discover how he can benefit the lemurs at LCF this summer. In his free time, he enjoys playing music, surfing, skateboarding, hiking, and snowboarding.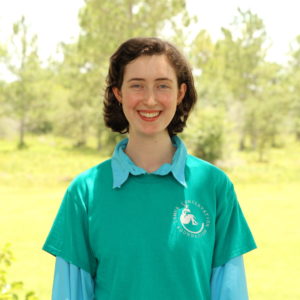 Kelly Keen

Kelly is a Biology major at the College of Charleston in South Carolina. She interned then volunteered at the South Carolina Aquarium in high school as an exhibit guide assisting in husbandry tasks for snakes, turtles, and juvenile alligators. Her time at the aquarium motivated her to pursue opportunities in the animal care/wildlife biology field. In her free time, Kelly enjoys writing, spending time outdoors, and painting rocks.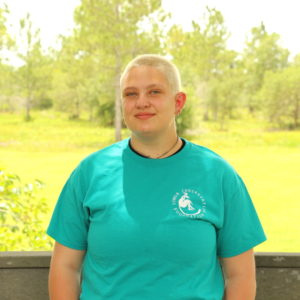 Olivia Ott

Olivia is a Biology major with a focus in Evolution and Ecology at California State University Monterey Bay. She was an Intern and Volunteer at Oakland Zoo, working in their Children's Zoo section and most recently in the California Trail section where she was awarded 2021 Volunteer of the Year. Ultimately, she hopes to have a career in zoo keeping, working with animals and the public to help educate and contribute to conservation efforts. In her free time, Olivia enjoys hiking, kayaking, horror movies and books as well as wrestling.
Tyler Hill

Tyler recently graduated from Western Washington University with a degree in Biology, emphasizing in evolution, ecology, and organismal biology. He has worked at a pet boarding facility where he gained ample experience in domesticated animal husbandry. Tyler wants to extend his animal husbandry experience so he can contribute to conservation and wildlife rehabilitation. In his free time, Tyler enjoys gardening, hiking, and spending time with his cats.