The Lemur Conservation Foundation is pleased to welcome Jillian Timko, Nour Al-Hussayni, Sebastian Aymat, and Sierra Russell as our new fall interns. All of these new additions bring great experience to LCF's animal husbandry program. We are very appreciative that they have joined us during this challenging time and we've implemented ongoing precautions to keep them and our staff safe and healthy during the COVID-19 pandemic.
Our thanks to Jill, Nour, Sebastian, and Sierra for following our protocols, which have included a 'mini quarantine' period that prevented them from shadowing husbandry staff for two weeks after their arrival at the reserve. Additionally, with their adherence to LCF PPE requirements, we provided them with presentations and activities that did not directly involve lemurs during the transition. Presentations included a general orientation, animal welfare, enrichment, and an overview of LCF's education programs, while projects included making banana circles for compost, cutting a new trail in one of our lemur forests (currently uninhabited), and cleaning up leftover debris from the Rent-A-Ruminant Florida land-clearing goat herd.
Read about their accomplishments and why they were attracted to LCF's internship opportunities.
Jillian Timko
Jill is from Brunswick, OH and is a graduate from Baldwin Wallace University with a degree in Biology.  Before arriving at LCF, she volunteered as an animal care aide at Cleveland Metroparks Zoo working with carnivores, pinnipeds, hoofstock, and macropods.  She also interned at Medina Raptor Center working with various species of birds of prey and songbirds, both in rehabilitation and with full time residents.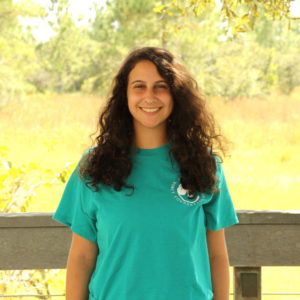 Nour Al-Hussayni
Nour is from Arlington, TX and graduated from Flagler College located in Saint Augustine, FL with a major in psychology and a minor in environmental science. Nour has previously interned at the St. Augustine Alligator Farm, where she completed two behavioral observational studies on komodo dragon tongue flicking and hyacinth macaw repetitive plucking behavior. Nour recently completed an internship at Carson Springs Wildlife Conservation Foundation where she worked with three species of lemurs and a variety of other animals. Nour is excited to intern at LCF and observe natural and authentic lemur behavior as well as learn the details and lesser known intricacies of species survival plans in AZA facilities.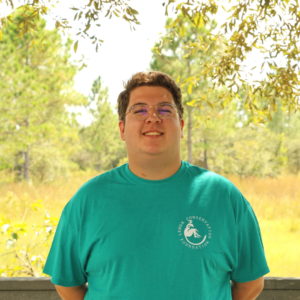 Sebastian Aymat
Sebastian is from Miami, FL and is a graduate from Florida International University with a degree in Biology and Natural & Applied Sciences. He was an animal care volunteer at Flamingo Gardens Wildlife Sanctuary in Davie, FL where he worked with non-releasable native Florida wildlife and discovered his passion for animal care and conservation. Sebastian is figuring out whether he wants to be a wildlife conservationist or an ER Doctor, and he is using this internship to help him decide. He chose to apply for the internship at LCF because he wanted to observe and work with lemurs in a natural environment.
Sierra Russell
Sierra is from Canandaigua, NY and is a graduate of Emory University, where she double majored in Biology and Psychology. She worked with various types of animals in a previous internship at the Lehigh Valley Zoo and is excited to focus on learning about lemurs at LCF. Sierra is exploring the possibility of a career in the zoological field and hopes that her time at LCF will provide opportunities for growth and new experiences.