This month, we highlight volunteer Dave for the many ways he's helped the Lemur Conservation Foundation. As the roommate of an LCF staff member, it was inevitable that he would be coaxed into volunteering at some point. Over the years, Dave has filled several volunteer roles, always with enthusiasm and a smile:
– providing helping hands at outreach and education events
– gladly donning a lemur costume and dancing at our World Lemur Festival
– toiling in the heat at our reserve assisting with a variety of tasks
– planting trees so vigorously in our forest that his pants split—now that's dedication!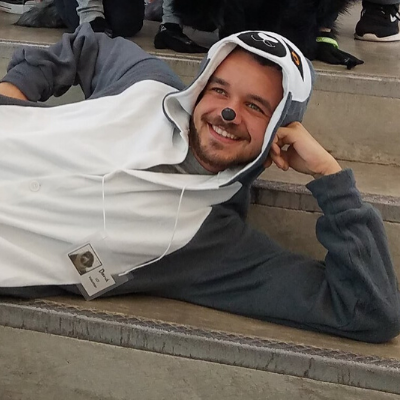 After providing countless hours as an LCF volunteer, Dave has truly earned the title "Lemur Lad"—his lifelong dream. Thanks, Dave!
If you live in the Sarasota-Bradenton area of Florida and are interested in volunteering at our reserve in Myakka City, check out these opportunities:
General Reserve Volunteer
Animal Husbandry Volunteer
Event Volunteer