In July, we shared news about our newest addition (Exciting lemur infant news), a red ruffed lemur infant born on May 25, 2020 to Ravina. He's growing in leaps and bounds, and now we're excited to announce that a name has been chosen for him.
LCF names our red ruffed lemurs with a Malagasy theme and, after much deliberation and a staff vote, the winning name is Frezy! Frezy, meaning 'strawberry', was chosen as a reflection of his strawberry blonde fur at birth, as well as his sweet nature and small size. Now almost three months old, Frezy is developing into a boisterous little boy and weighs in at over one kilogram! That's a big transformation from his 63g birth weight.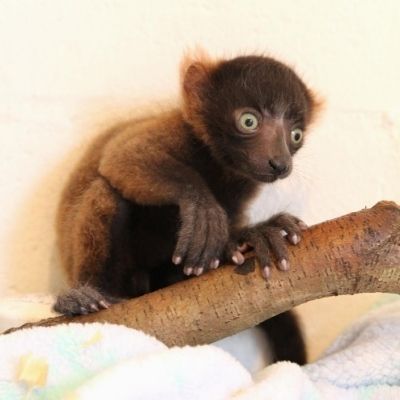 Frezy is still most closely bonded to his mother Ravina. He regularly eats solid foods, though he will continue to nurse for several more months. His latest adventures revolve around his developing play behaviors. Frezy spends much of his day initiating play with his parents and older brother Afo, as well as playing alone. Currently, these behaviors include climbing, jumping, and hanging from his enclosure branching, all important skills he will need when he grows large enough to safely traverse his future forest home.