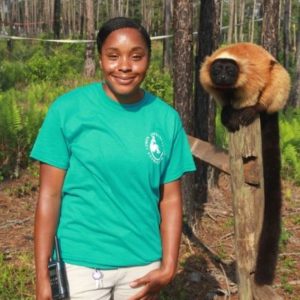 The Lemur Conservation Foundation is pleased to welcome Jade Parson as our newest keeper.
Jade hails from Norfolk, VA and is a graduate of Eastern Kentucky University (EKU) where she received her B.S. in Animal Studies with a minor in Psychology and is also currently working towards her M.S in General Psychology with a focus on animal behavior and cognition.
She started her lemur experience as a Temporary Animal Keeper on St. Catherine's Island where she worked with free ranging and captive ring-tailed lemurs, wattled cranes, Asian hornbills, gopher tortoise, barred owl, and red tailed hawks.
Thank you, Jade, for writing the following post about your background and interest in working for LCF. We're delighted that you've joined our team.
My parents have always told me that hard work, passion, and a strong work ethic will get you where you want to be. Never in a million years did I think I would have reached my dream career at 26 but I am so proud and thankful. My love for animals started at a young age and I was able to explore my skill set of working with animals throughout my college career.
As an undergrad at EKU, I interned and worked at vet clinics, completed a co-op with the Dolphin Communication Project in Bimini, Bahamas, and completed an independent study and started the Appalachian Equine Project at EKU. I was also the treasurer and president of the Animal Studies Club which allowed students to network and collaborate with zoos, farms, veterinary clinics, etc. to help aid students in deciding what various animal fields they would be interested in pursuing. I received my B.S. in Animal Studies with a minor in Psychology in 2016. Currently as a graduate student at EKU, I am working on finishing my M.S. degree in General Psychology with my master's thesis on Creative Behavior in bottlenose dolphins – as I am interested in animal behavior and cognition.
Apart from schooling, I was fortunate enough to find my niche in zookeeping after being a Temporary Keeper on St. Catherine's Island (SCI) in 2018. I worked with free ranging and captive ring-tailed lemurs, wattled cranes, red-tailed hawks, barred owls, sandhill cranes, asian hornbills, and gopher tortoise. Working with ring-tailed lemurs was a fun and exhilarating experience and after getting to know the lemurs I knew instantly that I wanted to remain on the path of working with primates as my career progressed. Learning about the social and behavioral dynamics of lemurs was fascinating and seeing how those dynamics influenced their behaviors on a daily basis encouraged me to want to help further aid in the conservation of the species as a whole.
Additionally, during my time on SCI, I was fortunate to volunteer my free time in aiding in various research/conservation projects such as the Butterflies of the Atlantic Flyaway Alliance, working with PhD students on various projects, volunteering with the GA DNR American Oystercatcher Productivity Study and Wood Stork Nest Monitoring, and volunteered with Georgia Southern University's Sea Turtle Program and Diamondback Terrapin research. Volunteering during my time on SCI led me to the position of a Sea Turtle Technician through Georgia Southern University for the 2019 sea turtle nesting season (GA's record-breaking year) and after the season ended, I stayed on SCI as a part-time Office Assistant. When the full-time keeper position at LCF was posted I knew I had to give it a try, so I applied, and it is still unreal that I am here.
Getting the opportunity to work for LCF is a dream come true and I am so grateful to be a part of the team. I am so excited to be able to learn more about the similarities and differences of all six species of lemurs at LCF. I look forward to getting to learn more about all the work that LCF does for lemurs in Florida and Madagascar, getting to know my colleagues, and being able to explore Myakka City and the surrounding areas. I want to sincerely thank LCF for having me and I want to thank everyone who has helped me on my journey to get me where I am today!