Hello baby! Say hello to our newest and youngest face at the reserve! Ring-tailed lemurs Dalia and Goose welcomed their first infant on July 4. Staff were particularly excited at the arrival of this little one as this is the first ring-tailed lemur birth at LCF in five years!
Following the birth, Dalia was very protective of her new infant. To help her relax and allow her to focus on the new addition, she and the infant were separated from Goose and the two mongoose lemurs they live with- Felix and Clarissa- for about two days. Goose was then reintroduced to Dalia and the infant, proving to Dalia that he was no threat. The little family have been bonding well ever since.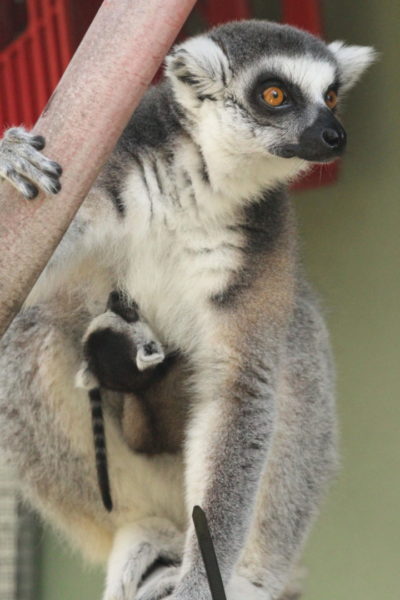 Dalia arrived at LCF in June 2021 from the Philadelphia Zoo on a breeding recommended by the AZA Ring-tailed lemur Species Survival Plan (SSP). Shortly after her arrival she was introduced to Goose! Dalia was rather unimpressed with her new suitor and Goose had to put on the charm to win her affection.
Ring-tailed lemurs are classified at 'Endangered' on the IUCN Red List with a very high chance of extinction in the wild in the near future. LCF works with multiple Species Survival Plans (SSPs) to manage our breeding programs and we are currently home to 52 lemurs, including 13 ring-tailed lemurs.