I have a name! Leena's infant who was born June 9, 2022. At just a couple months old, Leena pushed her offspring to be independent a little sooner than she was ready. Instead of hanging out with her mom, the little one turned to her dad Merced instead. Merced was wary at first, expecting retaliation from Leena, but soon learned that his new sidekick didn't bring any negative attention with her. The pair bonded quickly and are frequently spotted together. LCF follows theme names for all our lemur species, and the theme for mongoose lemurs is Spanish. So, without further ado, introducing Fernanda!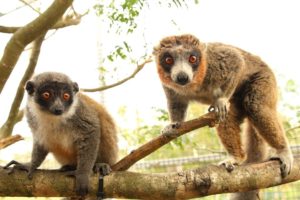 Fernanda (fer-NAHN-dah), meaning 'adventurous, bold journey', currently lives with her mom Leena, dad Merced, and big brothers Lonzo and LaMelo. Her name is quite fitting as she has become more and more adventerous by the day. When her family group was introduced to a group of our resident Ring-tails, she boldly followed them while they inspected "her" side of the habitat.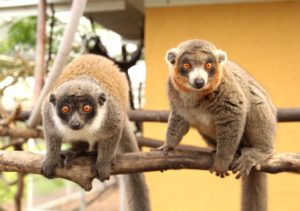 Fernanda is the 26th critically endangered mongoose lemur born at LCF in our 26-year history. With wild populations decreasing and their native habitat facing increasing threats, the mongoose lemurs found at LCF and at accredited institutions around the world serve as a genetic safety net against possible extinction in the wild.