We have a special (and potentially NSFW!) lemur veterinary story to share today. Say hello to Yuengling! At 30 years old, Yuengling is the oldest lemur at LCF. Yuengling is well known among LCF interns, researchers, and visitors due to one easily distinguishable characteristic- his drastically enlarged testicles!
A small, benign mass was first detected on Yuengling's testicles in 2011 during an annual physical exam. As it was benign and not affecting Yuengling's health, and because Yuengling is genetically valuable to the ring-tailed lemur population, the decision was made to not remove the mass and instead monitor it regularly. The slowly growing mass was monitored by LCF's veterinarian Dr. David Holifield for the past 11 years.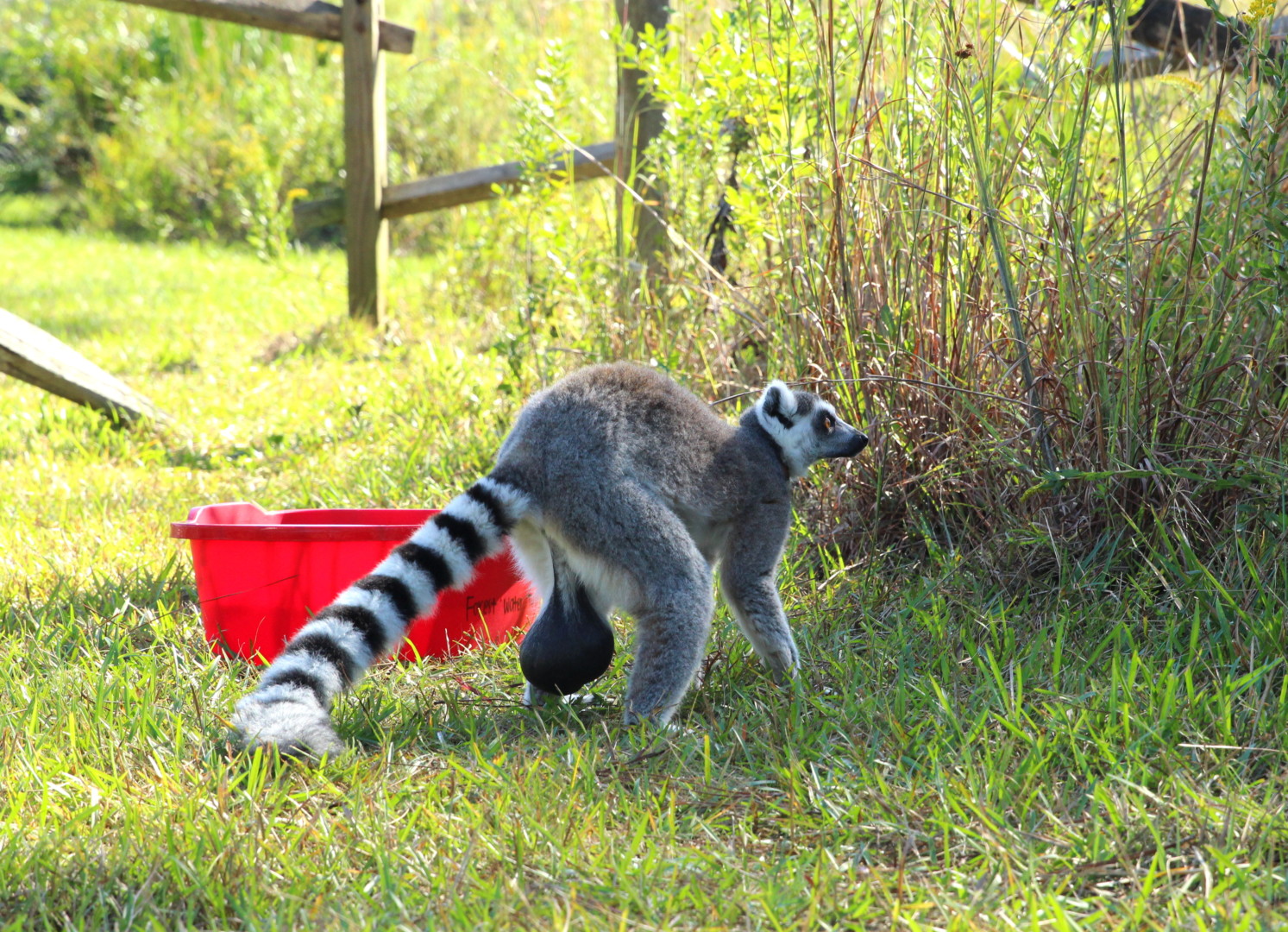 Within recent years the LCF team discussed with Dr. Holifield the possibility of removing the mass due to Yuengling's advancing age and the desire to make him more comfortable. However, such a serious surgery on an older individual such as Yuengling would be extremely risky.
During the peak of the 2021-2022 breeding season the increased size of Yuengling's testicles was accompanied by an increased droopiness that concerned the LCF team. As Yuengling is still free-ranging in one of LCF's forest habitats, there was major concern he could potentially get caught on a branch and castrate himself.
With the goal to prevent a medical emergency, the LCF team decided it was finally time to remove the offending mass. And so, on January 4, 2022, Curator Caitlin Kenney brought Yuengling to Dr. Holifield's clinic where he surgically removed the mass as well as the testicle it was attached to. Yuengling made it through the surgery and the subsequent two-week recovery period with flying colors.
Today Yuengling is back to roaming his forest home with his partner Ansell and their daughter Duffy, but minus one seriously heavy burden. Over the years, Yuengling had to adapt his gait to allow for the size of his testicles. Now that the offending mass is gone, he still walks a little differently, but he is no longer held back on speed. When he's not defending his family by stink fighting with the red ruffed lemurs, this old man can be found racing through the forest with nothing holding him down.