We want to introduce you to someone very special. Say hello to Guillermo the mongoose lemur (Eulemur mongoz). Born on May 11, 1993, Guillermo is almost 27 and the oldest mongoose lemur at LCF.
From his slow eating habits to his nearly inaudible vocalizations, Guillermo possesses an exceptionally gentle disposition. The one thing Guillermo is most enthusiastic about is scent marking. Since male mongoose lemurs will often rub their heads on interesting scents, Guillermo's extra vigor has resulted in a small bald patch on the top of his head, adding to his overall charm.
Guillermo arrived at LCF in May 2018 from Busch Gardens Tampa Bay, quickly settling into his retirement and our staff's hearts. During this time, he acquired several nicknames including Mo, Momo, and Mr. Mo.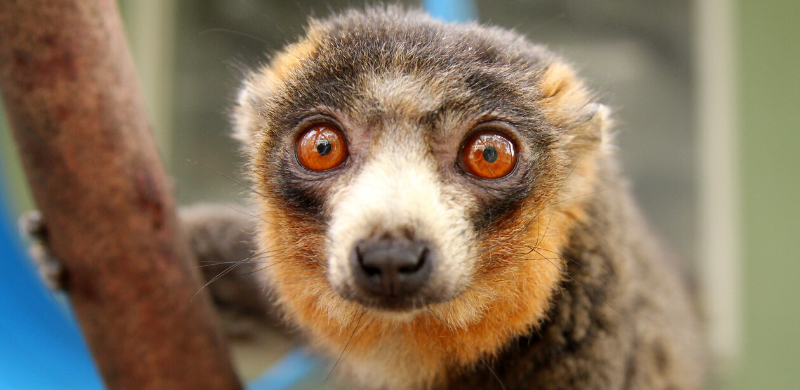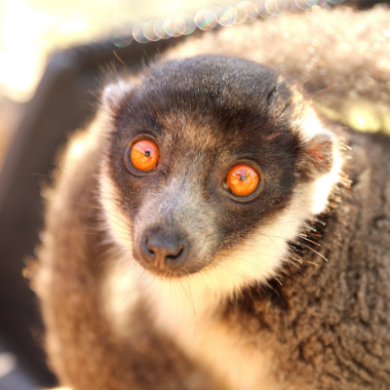 Guillermo is currently undergoing treatment for glaucoma, a condition caused by abnormally high pressure within the eye that often results in damage to the optic nerve, causing blindness. With the ongoing help of LCF's veterinarian Dr. David Holifield, veterinary ophthalmologist Dr. Anja Welihozkiy and the staff at Blue Pearl Specialty and Emergency Pet Hospital, and the daily attention of our animal care team, Guillermo is receiving a customized treatment plan that is helping stabilize the pressures in his eyes.
Vision loss may have slowed down this sweet lemur, but it hasn't stopped him from continuing to live his best life! These days, in addition to head rubbing, Guillermo most enjoys grooming and napping sessions with his young partner Rosalita. The pair are living in a custom adapted enclosure featuring stationary branching and customized ramps, shelves and baskets for resting, and textured materials near food and water sources to cue Guillermo to their presence.
Mongoose lemurs are listed as Critically Endangered on the IUCN's Red List with an extremely high risk of extinction in the wild in the immediate future. In addition to their important role in conservation, education, and research, Guillermo, Rosalita, and all the mongoose lemurs at LCF serve as a genetic safety net against possible extinction in the wild.