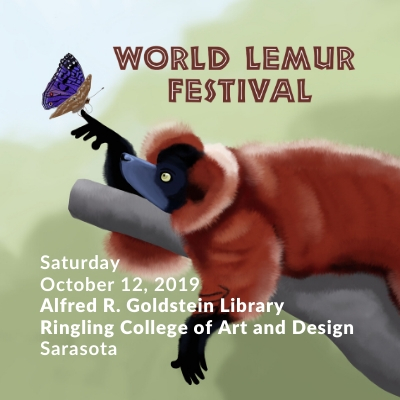 The Lemur Conservation Foundation, Ringling College of Art and Design, and New College of Florida are pleased to present the 2nd Annual World Lemur Festival in Sarasota on Saturday, October 12, from 1pm to 4pm.
This FREE, family-friendly event with fun and educational activities for all ages will take place as the Alfred R. Goldstein Library on the Ringling College campus.
A juried lemur-themed art exhibition is among the highlights. Students and faculty from Ringling College and New College of Florida are eligible to submit entries. The deadline for submissions is Friday, October 11, at 2pm. For guidelines and to complete the submission form to enter, click here: bit.ly/lemur2019.
Celebrate your love of and compassion for lemurs and learn what you can do to help save Madagascar's endangered primates. Bring a friend to help build awareness.