September 29th, 2022 Hurricane Ian touched down over our reserve in Myakka, FL. The reserve lost power the day before around 9:45am and flooding had already begun in the area.
Thankfully, all lemur buildings made it unscathed and all individuals were safe and sound! The same could not be said for our main office, the building is still intact but we lost our large oak tree built into our deck.

On October 3rd, staff was able to access two of our three forests safely to asses the areas. The Jim Toomey Woods and the Elizabeth Moore Lemur Forest Habitat both lost a significant number of trees. 35 trees fell on the fence lines. Seven of the 35 fell on two fence lines. Most of the trees in the middle of both forests were no longer standing. It appears about half of them uprooted completely and the remainder were snapped in half. With confirmed sustained wind speeds of 100+ mph in our area, this damage was no surprise. At this time, we conservatively estimated repairs to be over $50,000.

Then, on October 4th, ZDR3 (Zoo Disaster Response, Rescue, and Recovery) came out to aid in assessing damage and brought in individuals from San Antonio Zoo and West Palm Beach Zoo. These amazing volunteers helped up remove 64 downed trees! Including the large oak on our office deck. We could not be more grateful for the assistance, what would've taken our staff weeks to clean up, they cleaned up in four days!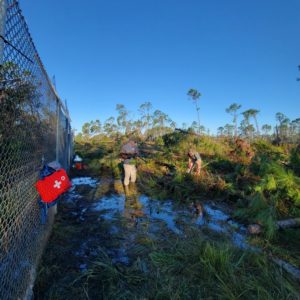 Now, our wonderful Maintenance Manager has been repairing forest fence lines whenever the land is dry enough (to prevent equipment from sinking into the mud!). We are cautiously optimistic that in the next few weeks, our lemurs will be able to be back out in their forest habitats.
In the meantime, keepers have worked hard to ensure our lemur colonies are doing well physically and mentally being in their building enclosures. For one of our forest dwelling groups of Ring-tails, staff decided to try introducing them to a group of building Mongoose lemurs. This would give both groups more space than before and it would be enriching for each group. It is still going wonderfully for these two groups, all ten individuals share the spaces well and we gained a dynamic duo: Ring-tail male Molson and Mongoose Lemur Merced!

Be sure to follow us along on our social media pages to get updates on forest fence repairs! https://www.facebook.com/LemurConservation