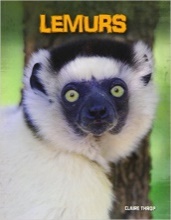 Baby Lemurs, by Bobbie Kalman
"How Smart Is a Lemur?" (3:22), CNN,
about intelligence testing at Duke Primate Center.
"Exploring the Island of Lemurs: Madagascar" (5:43), ABC News,
about filming an IMAX movie in Madagascar.
"The Ring-Tailed Lemur" (3:19), BBC,
about scents and mating.
"Aces of Agility" (2:46), National Geographic,
about silky sifaka movement.