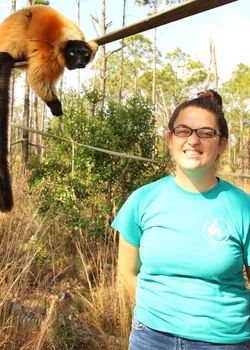 Meredith Hinton
CURATOR
Myakka City, FL
With a Biology degree from Delaware Valley University, Meredith has gained ample experience since her 2014 graduation. She started her career with Sea Turtle nesting work on Edisto Island, SC for 2 summers⸺once as an intern through the Department of Natural Resources and once as the Sea Turtle Specialist at Edisto Beach State Park.
Desiring to learn more about the zoo field, Meredith joined the LCF team as a husbandry intern in November of 2015 where she fell in love with lemurs for the first time. After her 7-month internship, she went to the Virginia Zoo as an intern and was quickly hired on as a temporary keeper, where she worked with a variety of hoofstock, carnivores, and primates. She then worked from April 2017- November 2021 as a Gorilla/Small Mammal Keeper at Riverbanks Zoo and Garden in Columbia, SC. During her time at Riverbanks, Meredith not only gained experience with the great variety of animals under her care, but also learned about building meaningful relationships and trust with those animals.
With guidance from her current coworkers here at LCF, Meredith also became an Education Advisor with the Prosimian Taxon Advisory Group (PTAG) while at Riverbanks. Lemurs have always held a special place in her heart and she excitedly returned to LCF as a Senior Keeper in December 2021. She now hold the position of Interim Curator.