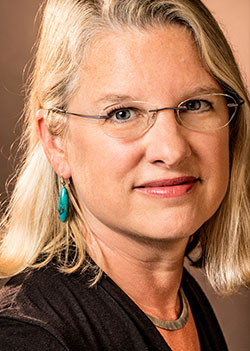 Katharine L. McKenna
Painter
Woodstock, NY
Born in Berkeley, CA, and a longtime resident of Woodstock, NY, K. L. divides her time between the Hudson Valley and the American West. Her luminous landscape paintings of Wyoming, Colorado, Montana, Utah, and Arizona reveal a profound attachment to the natural geology and essence of place. K.L.'s inspiration is rooted in childhood experiences with her paleontologist father, whose expeditions with the American Museum of Natural History exposed her to the West, the last frontier, a territory of wide open spaces and dirt roads.
K. L. has a BA in American studies with a concentration in anthropology from Wesleyan University and a master's of industrial design from New York's Pratt Institute. She has worked in a variety of disciplines over the years, including museum exhibition design, computer user interface design, and color consultation. She currently teaches painting and color at the Woodstock School of Art.
She has exhibited widely, and her paintings reside in permanent collections of the Rockwell Museum, the Museum of Northern Arizona, the Booth Museum, the Woodstock Artists Association & Museum, and the Desert Caballeros Museum in Wickenburg, AZ, where she won the 2015 People's Choice Award at the Cowgirl Up! Exhibition.
K.L. also serves on the boards of Pratt Institute, the Woodstock Byrdcliffe Guild, and the Arts Society of Kingston.
K. L. McKenna's painting Red Lemurs resides in the permanent collection of the Lemur Conservation Foundation. Katharine's father, Malcolm C. McKenna, was an original founder of the Myakka City Reserve.