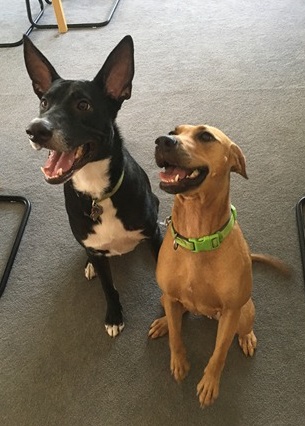 Nacho
RESERVE DOG
Myakka City, FL
After a mysterious start to life, a five month old Nacho found himself sitting in the middle of the road on May 26, 2016 where a big black car soon stopped to see if he was okay. Instead of waiting for this new person to reach him, he instead ran around the car and jumped right into the driver's seat. Luckily for him, his new human friend let him stay in the car and drove him all the way to LCF where he was immediately showered with praise by the staff and interns.
Quickly deciding he liked this new place and the fun people, Nacho determined he would stay and become a 'good boy.' Over time Nacho has developed many reserve dog skills, including greeting visitors and delivery men, eradicating unwanted bugs in the office, popping those pesky shipping air packs, and drinking from the office water cooler. In addition to his daily work, Nacho spends his free time destroying toys and barking at walls.
Delilah
RESERVE DOG
Myakka City, FL
Delilah too was picked up by that same big black car, this time in August 2017. Unlike Nacho, Delilah had a collar and seemed to be lost. After weeks of trying and failing to find her previous home, she too was adopted into the LCF family.
Nacho quickly took Delilah under his paw, teaching her all the glories of being a reserve dog. In addition to her daily work, Delilah excels in exaggerated tail thumps, slobber production, and napping in sunbeams.