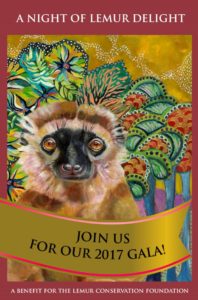 Events
You are cordially invited to A Night of Lemur Delight, our 2017 benefit gala. Help advance LCF's urgent mission to prevent lemurs, among the most endangered mammal groups in the world, from becoming extinct.
When: Thursday, December 14, 2017, 6pm Cocktails, 7pm Dinner, 8pm Program and Entertainment
Where: Michael's On East, Sarasota, Florida
Sponsorships and Tickets ($200) available by clicking here
Spend an evening celebrating and delighting in lemurs, learning about LCF's vital work—past, present and future—in Florida and on the ground in the lemurs' ancestral home, Madagascar.
Distinguished Guest Speaker Dr. Ian Tattersall, world-renowned paleoanthropologist and an emeritus curator with the American Museum of Natural History, will fascinate guests with stories about his work to uncover the mysteries of lemurs in Madagascar and with LCF.
From Madagascar, singer-songerwriter Razia Said will entertain with spendid compositions drawing on her Malagasy influences while incorporating R&B and Jazz.
If you have questions, please email info@lemurreserve.org or call (941) 812-3233.
Connect
With over 50 lemurs living at the Lemur Conservation Foundation's reserve in Myakka City, Florida, there's always news about one or more leaping, climbing, calling or roughhousing in their protected forests and shelters. We invite you to learn more about our vital work in Florida and Madagascar to save lemurs from extinction.
Please help build awareness about these endangered primates by sharing our news. Together, we can work to eliminate the challenges faced by lemurs.
E-newsletters
2017
2016
More e-newsletters