Connecting Head and Heart
Paintings, sculptures, music, stories—all these art forms contribute to conservation education by bringing the natural world into human space. Art stirs awe and wonder, and with them grief at potential loss. These powerful emotions motivate people to preserve lemurs and defend their habitat.
The foundation encourages scientific education through art with such initiatives as commissioning original art videos, environmental sculpture, and paintings. The Mianatra Center for Lemur Studies houses LCF's art collection, which includes lemur-themed work by such artists as Jean Blackburn, Craig Rubadoux, Judy North, Joseph Santore, Barbara Sandler, and Alexis Rockman. In 2014, Art Center Sarasota mounted an exhibit from the LCF collection, Vanishing, featuring nearly 20 artists.
In another LCF-sponsored collaboration of artists and scientists, watercolorist Deborah Ross partnered with Dr. Alison Jolly on the Ako Project, a series of bilingual picture books about the lemurs of Madagascar.
MadagaSCARS is a poignant five minute flash animation created by Camille Wainer in collaboration with the Lemur Conservation Foundation that captures the urgent environmental and social issues that threaten the future of wildlife and humans on the island of Madagascar.
We're pleased to share a small representation of our extensive lemur-themed artwork.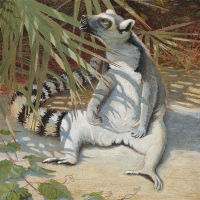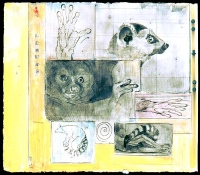 Mixed Lemurs, Barbara Sandler
New York City-based artist Joseph Santore has been a long-time friend and contributor to LCF. His artwork Catta was featured in our calendar and hangs in the Mianatra Center for Lemur Studies, and his beautiful paintings of lemurs are featured on our bookmarks available in our gift shop.
In February 2018, his son Luke Santore volunteered at the reserve—his third time since 2010. We're grateful to Joe and his family for their commitment and friendship.
A quote from Joe's early involvement with LCF beautifully illustrates our belief in making art an important part of our mission to educate people about lemurs' challenges.
Artists have always dreamt of special places, those places that haven't been altered, places without manmade noise. We look at things to feed our imaginations seeking those new structures that are out there beyond the stars, new color relations, light that alters form. Cezanne said that if an artist could simply look at an object as if for the first time and see it as if it had no identity and paint it that way, then we would have a revolution.
Scientists keep peeling away the skin of an onion, just when we think we understand something another discovery is made and then another. The task is the same for us – peeling the onion. For those of us who work with our hands and who look at things everyday and try to understand them, connect to them by creating harmonies with pieces of paint on a flat surface that somehow echo the harmonies of the creation, well – it's all sacred.
I admire what LCF is attempting to do with the art/science program and believe it can help focus attention on the environments and creatures at risk. The bottom line is that when certain things are lost, they are irreplaceable and that lessens all of us.
Artist Joseph Santore