Connecting Head and Heart
Paintings, sculptures, music, stories—all these art forms contribute to conservation education by bringing the natural world into human space. Art stirs awe and wonder, and with them grief at potential loss. These powerful emotions motivate people to preserve lemurs and defend their habitat.
The foundation encourages scientific education through art with such initiatives as commissioning original art videos, environmental sculpture, and paintings. The Mianatra Center for Lemur Studies houses LCF's art collection, which includes lemur-themed work by such artists as Jean Blackburn, Craig Rubadoux, Judy North, Joseph Santore, Barbara Sandler, and Alexis Rockman. In 2014, Art Center Sarasota mounted an exhibit from the LCF collection, Vanishing, featuring nearly 20 artists.
In another LCF-sponsored collaboration of artists and scientists, watercolorist Deborah Ross partnered with Dr. Alison Jolly on the Ako Project, a series of bilingual picture books about the lemurs of Madagascar.
MadagaSCARS is a poignant five minute flash animation created by Camille Wainer in collaboration with the Lemur Conservation Foundation that captures the urgent environmental and social issues that threaten the future of wildlife and humans on the island of Madagascar.
We're pleased to share a small representation of our extensive lemur-themed artwork.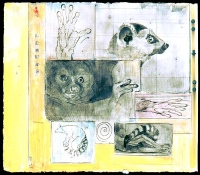 Mixed Lemurs, Barbara Sandler